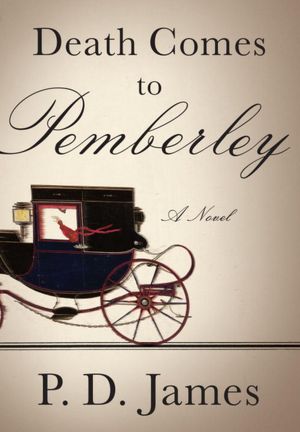 I never read sequels written by authors who write about characters who were not originally their own. It just seems so wrong to me, to hijack another author's character and write books about them. I love Gone with the Wind but will never read Scarlett. I love Rebecca but you'll not find me picking up Mrs. Dewinter. Nor will you find me reading the plethora of sequels by various authors to Jane Austen's beloved books.
First of all, in most cases if Mitchell, du Maurier, and Austen had wanted to have written more about those characters, they probably would have. Secondly, it just seems like a horrible marketing act and grasp at fame by authors who want to make money off of another person's character.
However, when I saw that Death Comes to Pemberley was coming out, I decided to risk giving it a try. And that was simply because P. D. James wrote it.
I absolutely love James' Adam Dalgliesh crime series. I'm not one who usually reads crime, but James' writing is engaging, pulling you into the lives of the various characters that people her mysteries. Also, Detective Dalgliesh has his own sad past to deal with. Her plots are interesting, descriptions intriguing, and characters fascinating. And I love that her novels are primarily character-driven, versus plot driven.
But, I have to say Death Comes to Pemberley let me down.
First, it took a very long time for anything to actually happen. There's lot of background explanation. Understandably, James recaps Pride and Prejudice within the first several chapters, just in case you don't know the story and have no idea as to Elizabeth and Darcy's history. But, that creates a first few chapters that simply drag.
Second, because it's about Jane Austen characters, you can't help compare it to Jane Austen's writing. And Austen's writing just sparkles. Perhaps that's an unfair comparison, but I don't think you can help it. She's witty and clever. There's lots of dialogue and very little description. In this novel there was lots of description and very little dialogue. At one point I found myself wondering if any of the characters were ever going to have a conversation! And when I compared this book to James' other writing, it felt stifled. Perhaps that's because James felt like she was treading on sacred ground with these characters, she wasn't being her true self as a writer. I don't know, but it this novel lacked aspects that I love about James' usual fiction. Instead the descriptions were flat and characters also felt like they lacked dimension.
Third, the mystery just didn't grab me. I just wasn't spellbound by the plot. I really didn't care about what happened to Wickham, who was on trial for murder.
All in all, I'm sorry to say the novel was basically lackluster to me. I really wanted to like it.
Have any of you read this novel? What were your thoughts?